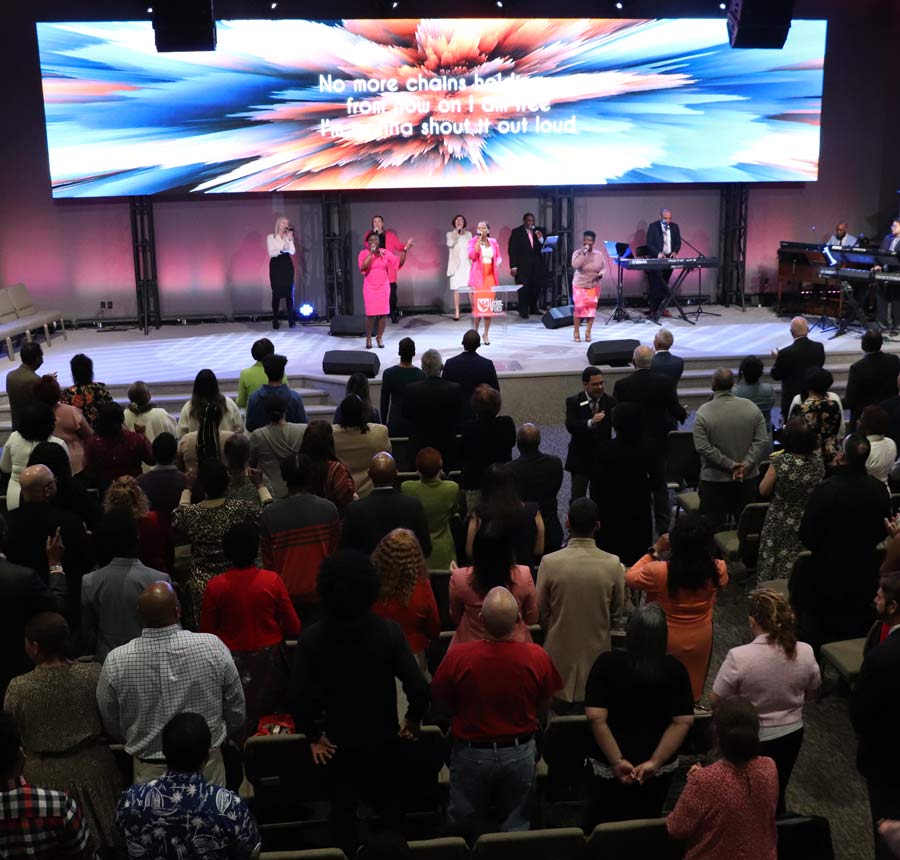 Every born-again Christian has been gifted by God. The Lord desires they use that gift in a way that will best serve Him, their pastor, and God's people.
Here at LWCC, individual "gifts" are channeled into groups called ministries. All individual ministries in the church are corporately called the Ministry of Helps. Ministries are designed and ordained to––directly or indirectly––assist our pastor in fulfilling the specific vision God has given him.
"Be hospitable to one another without grumbling. As each one has received a gift, minister it to one another, as good stewards of the manifold grace of God."
1 Peter 4: 9,10 (NKJV)
APPRECIATION:
Directly assists Pastor Ray in personally showing his appreciation for department heads and other ministries. Also coordinates other special events.
CHILDREN'S CHURCH:
Children's Church serves children in preschool to 5th grade during our weekly Sunday service. Through music, drama, skits, puppetry, Bible lessons and games, the age-appropriate ministry is offered in a safe, secure environment with the objective of leading children to a personal relationship with Jesus. The Children's Church ministry also participates in special holiday programs throughout the year. Special training and background checks required.
CLEANING:
A behind-the-scenes ministry dedicated to ensuring that God's House is always immaculate and in perfect order for members and guests.
COMMUNITY OUTREACH:
Every year, LWCC participates in supporting dozens of outreach programs, such as delivering backpacks and winter coats to those in need.
FELLOWSHIP SUNDAY:
Prepares and serves refreshments for the 1st Sunday-of-the-month (May-October) gatherings.
GREETERS:
This ministry team warmly welcomes members and visitors as they enter the church. They answer questions about programs, events, and general information about LWCC. Some training required.
KIDCHECK:
Responsible for the registration and check-in of all children attending Children's Church. Other responsibilities include assisting the teachers if needed.
MEDIA:
Members are technically trained in the production and directing of the weekly LWCC service, live streaming, and special productions. The team also prepares announcements, scriptures, music lyrics and special screens for service, and special videos and video screens for church productions. Some training, but no previous technical experience required.
PARKING LOT:
A front-line team assists in the parking of cars and provides valet service when needed. Must be at least 18 years old with a valid driver's license. Training and background checks required.
RAPID RESPONSE:
A team that responds to any emergencies within LWCC.
SET CONSTRUCTION:
Design and build sets for holiday productions and other special events.
SOCIAL MEDIA:
Team that manages LWCC's social presence on Facebook, Instagram, Twitter, and YouTube. Some training is required.
SOUND:
Operating in conjunction with the Worship Ministry, members are technically trained to manage our state-of-the-art sound system. Some training is required.
SPECIAL EFFECTS:
Members are trained in the design and operation of our state-of-the-art lighting and effects used in services and productions. Some training, but no previous technical experience required
SPECIAL EVENTS:
A ministry that organizes, plans, and serves at special church fellowship events throughout the year.
USHERING:
As "armor bearers," ushers are called to assist Pastor Ray and the congregation. Ushers greet, seat, keep order, and collect offerings. They are responsible for the security, safety, and comfort of all in attendance. Men and women may serve. Some special training and background checks required.
VISITOR OUTREACH:
Mature members directly assist Pastor Ray and Elders in personally greeting first-time visitors after service to answer any questions they may have and make them feel comfortable and welcome. Pastor personally screens applicants
WEDDING COORDINATOR:
Coordinates all details involved in arranging for member brides and grooms to be married on church property, in the LWCC sanctuary, or in Pastor Ray's office suite. Guidelines, specifically designated by Pastor Ray, must be agreed to, and followed. Pastor Ray personally screens applicants
WORSHIP TEAM:
Consists of both choral and instrumental groups who lead the congregation at all services and special programs in praise and worship. As a frontline ministry, it functions directly under the leadership, guidance, and direction of Pastor Ray. Auditions and some prior musical skills are required
YOUTH:
The 24/7 Youth Ministry is dedicated to teens. A place of fellowship where a meaningful relationship with the Lord can be developed and the many challenges facing young people today addressed in a friendly, loving environment. A background check is required.